Leading hypnotherapist reveals how you will overcome fear and anxiety in only 3 hours and 17 minutes with new breakthrough audio program.
This is a it yourself take home hypnosis and therapy program to remove your phobias.  Find out more on Phobia Free full site
As seen on news.com.au January 13 2017
Friday the 13th Phobias
To check Mark's interview click here
As seen on Daily Edition January 12 2017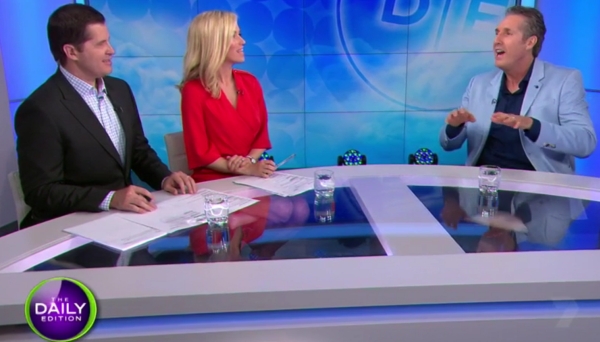 ABOUT PHOBIAS
There are many types of phobias including:
The natural environment—fear of lightening, water, storms, etc.
Animal—fear of snakes, rodents, spiders, etc.

Medical—fear of seeing blood, receiving injections, visiting a doctor, etc.

Situational—fear of bridges, leaving the home, driving, etc.
The A-Z list of phobias is huge:
Ablutophobia- Fear of washing or bathing.
Acarophobia- Fear of itching or of the insects that cause itching.
Acerophobia- Fear of sourness.
Achluophobia- Fear of darkness.
Acousticophobia- Fear of noise.
Acrophobia- Fear of heights.
etc.
For the full list of phobias, visit our full Phobia Free website
Leading hypnotherapist Mark Stephens will help you to overcome fear and anxiety in only 3 hours and 17 minutes with new breakthrough audio program.
THE FEAR OF DIETING
One issue that rarely gets addressed when it comes to 'weight loss' is the fear of being slim.
This fear may have originated from a number of causes or one specific event.
The problem is that whenever you are holding on to the fear of being slim, at some point you will sabotage your efforts to reach your goal.
Some people equate being slim with not being safe. The fear then stops them from reaching a healthy weight. Others are afraid of the attention they may receive. Then for others it is the fear of failing because they keep thinking the weight will go back on anyway.
Fear can be crippling. Fear also increases stress which in turn effects the body's ability to burn fat.
At our Five Day and Seven Day Retreats at Little Forest Health Retreat we spend close to an entire day working through all the negative emotions that may be holding you back. By the end of the retreat all fear is gone. On top of the releasing of negative emotions we spend a fair amount of time practicing relaxation techniques, self-hypnosis, mediation and Tai Chi which all contribute to the reduction of stress.
If you would like to find out more about how our retreats or Think Slim Pocket Coach can help you reach your goal and feel safe and click on links at bottom of this page.
ABOUT PHOBIA FREE CD SET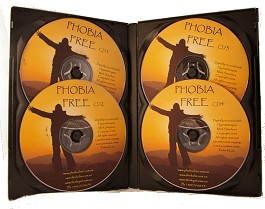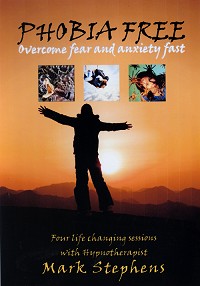 Mark Stephens Phobia Free CD set is available to order now.
What you get in the 12 session 4 CD program
CD1 
• Phobia Free Introduction 18 min
• Controlling Emotions 24 min
• Anchoring and BAM effect 27 min
CD2
• Eliminating Baggage 30 min
• Anger Release 13 min
• Fear Release 7 min
CD3
• In Control 15 min
• Clowning Around 7 min
• Silly Songs 3 min
• Logical Levels 6 min
• Cartoon Therapy 16 min
CD4
• Phobia Free hypnosis 1 31 min
• Phobia Free hypnosis 2 36 min (BONUS session)
3 FREE bonus's worth over $500
To really help you reinforce you new found freedom I have included 3 bonus hypnosis sessions that you can use several times if needed.
Bonus #1 Phobia Free Hypnosis #2
In this 36 minute bonus hypnosis session you will continue to reinforce everything you have learned throughout the Phobia Free program. You will see yourself as calm, confident and in control.
Bonus #2 Increasing confidence
If you have lacked the confidence to succeed and overcome your problem this 18 minute session will help you have greater faith in your own ability. In fact this session will help you be more confident in any area of your life.
Bonus #3 Soften and Relax
This 14 minute hypnosis session will help you completely unwind and relax. Your mind will be trained to quieten and your body will learn to totally let go of tension. This session can be used for a power nap or to help you sleep better.
4 step system for success
Step#1 Understand the problem
Step#2 Remove the problem from your subconscious
Step#3 Learn to laugh at the old problem
Step#4 Hypnotically install new behaviours and beliefs
The exciting thing is that everything in Phobia Free has been designed to teach your mind to create new feelings, new thoughts and new images.
That's exactly why.
When you are seriously ready to let go of the fear.
Regular price: $197+P&H
Discount : $50
Our price: $147 + P&H
| Product | Recommended Retail Price | Saving | Price | Buy Now |
| --- | --- | --- | --- | --- |
| Phobia Free CD Set | $197 + P&H | $50 | $147.00 + P&H | ADD TO CART |
TAKE CONTROL OF YOUR LIFE TODAY

RETREATS
Our 2, 3, 5 and 7 day hypnotherapy retreats help you rewire your mind for success.
RETREATS
Join us on a retreat. Unload your emotional baggage and eliminate unhealthy thinking.

MP5 Pocket Coach
Carry 50 hours of Mark's life-changing hypnotherapy sessions in your pocket.
MP5 Pocket Coach
Get a proven, do-it-yourself, take-home hypnosis program.

One on One Sessons
Get your life back on track with a 5 hour breakthrough session with Mark Stephens.
One on One Sessions
Our books will give you the inspiration you need and a proven recipe for success.